Scott and Jennifer's Wedding


We originally put up this page to give folks details about our wedding plans. We were married on September 4, 2004. We are (slowly) posting wedding pictures here. We went on a fantastic honeymoon in the Catalonia region of Spain. We have lots of annotated pictures here.

I'll be leaving this page up for archiving and so it can be found by relatives and friends again as well as via google searches. It's unlikely that anything new would be posted here but keep an eye on the pictures links noted above.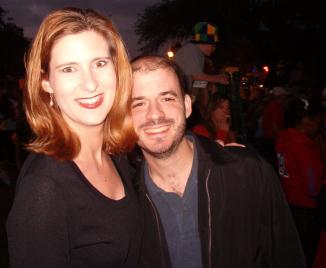 When :: Where :: Music :: News
---
We have chosen September 4th of this year for our event. This is of course, labor day weekend. That should give our guests time to explore and enjoy a little bit of what our hometown has to offer. Since this is early September, expect the weather to be quite warm in New Orleans.
The combined ceremony/reception will take place at Bella Luna Restaurant in New Orleans on September 4 starting at 7pm
We'll have a brief ceremony on the balcony surrounding Bella Luna's terrace room -- weather permitting, of course. The terrace room is a beautiful space with 15ft ceilings with windows that run nearly floor to ceiling around. It is right on the Mississippi river in the center of the French Quarter and has spectacular views of the river, downtown, and the French Quarter. A spacious outdoor balcony wraps the terrace room as well.
We have booked Tony Green to play at our ceremony. Tony plays a style of music referred to as "Gypsy Jazz". It is played with acoustic instruments in the distinctive guitar style exemplified in the playing of Django Reinhardt. Take some time to check out the samples.
Some folks have been wondering where we've registered. The answer to that is that we haven't. At least half of our guests are travelling to attend our wedding and we really feel that your presence is our present. So do come and take a weekend off and enjoy our city.
We're honeymooning in Barcelona, Spain! We've booked our trip and can't wait to go. We'll probably travel down the Catalonian coast as well. We may also take a trip into Provence while we're there but we haven't decided on that just yet
The official invitations have been mailed out as of 7/21/2004. We have a fairly definitive list of who's coming, but please take the time to RSVP anyway. In addition to calling, you can email either of us scott_harney@yahoo.com or doc_traughber@yahoo.com. We look forward to seeing you there. It's just a little over a month away *yikes!*
Must Do's while in New Orleans

So many of you are coming from out of town, we thought we'd offer some suggested things to do in town while you're here. Obviously many folks are at least going to want to see the French Quarter and Bourbon Street. That's fine, but make sure you take a stroll down Royal Street (runs parallel to Bourbon one block closer to the River) and Chartres as well and catch the antique shops, art studios, and the French Market too.
When you're finished there, walk down Royal to Canal and hop on a St. Charles Avenue streetcar. They're the big lumbering green old ones -- not the new red ones. Head down St. Charles and check out the mansions in the Garden District. You'll note several (good) restaurant options as you travel down. Go far enough and you'll hit Audubon Park which you can walk through on your way to the Audubon Zoo. Or play Golf if that's your thing.
The streetcar is the easiest way to return downtown. Once you're back on Canal, you can take one of the (air conditioned) red streetcars down Canal Street (heading away from the River and downtown). The streetcars will either say "Cemetaries" or "City Park/Carrollton Avenue". You should take the time to see both. City Park is one of the largest municipal parks in the country and has four public golf courses. It also houses the New Orleans Museum of Art and the brand new (free) Sculpture Garden. There is a wonderful kiddie amusement park with a 100 year old Carousel and the Botanical Gardens.
And of course New Orleans cemetaries are a sight to see as well. Most of them are located right at the end of the streetcar line on Canal. New Orleanians are buried above ground due to the city resting below sea level. Thus the cemetaries truly are cities of the dead and art museums in their own right.
A ride back on the streetcar to Carrollton and Canal offers numerous restaurant options. You can also head back down to the riverfront and vist the New Orleans Riverwalk and the Aquarium of the Americas. Just don't completely wear yourselves out -- after all you have a wedding and reception to attend!
Don't hesitate to call or email us if you have questions or need some other off-the-beaten path ideas. This site should be helpful as well.
[/NewOrleansSights] permanent link
We've started this page to let family and friends know what is going on with our wedding. We'll keep it up to date with useful information about the event as well as things to do and places to stay in New Orleans. Links with all the critical details are in the right side column. Be sure to check back frequently or if you use RSS, click here for a syndicated feed. Feedreader is a good tool for reading RSS syndicated content.