Archive Page 2
---
---
Closed
Published by scotth September 15th, 2008 in Katrina
This Time Magazine article asks the question "Could Florida Survive the Big One?"  I think the answer is "no."  Americans, it's time to consider abandoning the state of Florida.  We can just move Disneyworld and Universal Studios a few hundred miles inland to somewhere near Atlanta and it's all good.
Florida is just kinda out there like a sitting duck. I'm not a geographical, hydrological, meteorological or any other kinda expert but it's pretty obvious when you look at a map.  It's going to happen one day.  And it's going to be really expensive. Why should the rest of us pay to clean up what we know is inevitable? All those "snow birds" need to stop expecting the rest of us hard-working taxpayers to bail them out. It's time to cut our losses.
Clearly Florida is way too risky. The insurance industry sure thinks so:
Industry actuaries say the problem is simple: Florida's insurance rates, high as they may be, are not high enough for a state with an estimated 25% of America's high-risk property.
And as an added bonus, no more "hanging chads" messing with our electoral college.
This is in response to the inevitable post-Gustav, post-Katrina editorials I recently read but will not link to.  I will, however, link to this excellent Louisiana Weekly rebuttal:

Actually, we've been back for a while but much too mentally drained to post. We felt an enormous wave of relief opening the door to the house and seeing everything just as we had left it. That moment of opening the door on return was so vastly different from our last evac and return.
The timing of Gustav was just too eerie, too unsettling, too close. But, as my wife said, this time we cleaned the house before we left. You don't clean a house you don't think you're coming back too. When we bailed our mid-city house for Katrina, we didn't waste time trying clean before screwing down that last piece of plywood.
So the wife went to our friends home near Jackson, MS and I went to work in Little Rock, AR. Neither one of us liked the idea of being separated at such a stressful time. For me it was a case of hurry-up and wait. I rushed to Little Rock and then we just watched and waited to see if anything bad would happen forcing our hand and requiring action. Managers would come up with various doomsday scenarios and we'd answer their questions and return to our temporary cubespace and track the storm's progress.
I made the mistake of looking at CNN. I had forgotten how incredibly bad cable news is. Not just Fox. All of it. Absolute garbage. But twitter, on the other hand provided real news. And via twitter we found a link that aggregated all the local TV news stations so we could get decent, straightforward reporting. This and of course WWL 870 radio. So while CNN and the like were reporting "OHMIGOD the levees going to break and flood the lower 9!", WWL's Lee Zurik was standing directly in front of the supposedly broken floodwall with a Corp official — on the upper 9th ward side.
Still weary, a little worse for the wear, but also blessed and thankful. Because while Gustav mostly spared us, it did great damage to our Terrebonne and Lafourche neighbors that you likely won't hear about on any national news report.
Linky-loo:
As if it's impossible to forget. Especially today with the deja-vu Gustav playing with our fragile heads.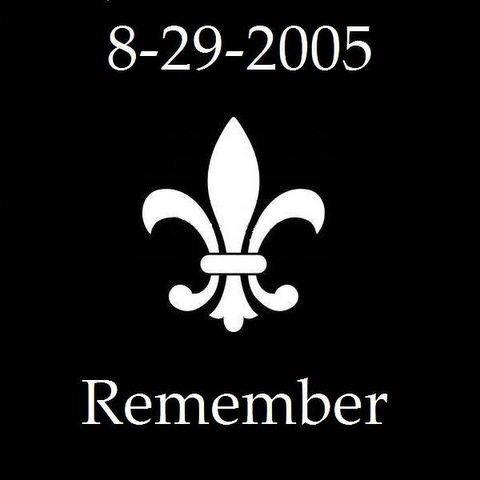 Closed
Published by scotth August 27th, 2008 in Katrina
Courtesy of Loki, this open letter from Matt McBride to the Corps requesting that they release the results of surge model runs to public view in the interests of "effectively communicating risk."
We have tons of tools for modeling wind and direction of storms and those all help us make our plans. But having these additional models describing surge potential would be a good tool for the public to have to increase awareness and understanding.
Closed
Published by scotth August 26th, 2008 in Katrina
Man, this would totally suck.
Of course, watching changes in the spaghetti models of Gustav has us worrying about pretty much the same thing.
Closed
Published by scotth August 25th, 2008 in Katrina
Hot on the heels of our discussion at Rising Tide III where the fall of print journalism was a hot topic, the Times-Picayune's Angus Lind comes up with a real scoop: "Deep Float checks in with the scoop on a new Uptown route". That's right, apparently Krewe D'etat will be changing it's start time and route and begin at Jefferson, roll up Magazine, turn on Napoleon and then continue on the original St. Charles route. Furthermore, Muses may take the same route.
Wow.
This is a big change. Wonder how those folks below Napoleon that have never had to deal with the parade madness so directly will react (with the notable exception of Sunday morning's Thoth)
It makes me think we should consider a Carnival Panel at Rising Tide IV where we can discuss weighty issues like:
Changes in the Uptown route
The loss of the Mid-City route
ladder etiquette or lack thereof
Sidewalk side or neutral ground side?
etc.
Time to crank up some Professor Longhair. After all Krewe of OAK is doing its Midsummer Mardi Gras on Saturday.
Closed
Published by scotth August 25th, 2008 in Katrina
On Saturday's Journalism panel, there was a fair amount of discussion around cable news. Many bemoan the rise of Fox News but several panelists argued that CNN is "just as bad." They're right. It's terrible.
I've rarely watched any cable news because it's just so excruciating and replacing TVs that have been destroyed by bricks being thrown at them is expensive. The only time I watched cable news for any length of time was in the immediate aftermath of Katrina. And obviously the circumstances around that were deeply personal. I still got better news out of the local Jackson area news media and particularly the stations that provided temporary employment to some New Orleans area reporters.
Pretty soon I'd found WWL online and blog posts from Jon at Cork and Bottle wine shop and I was getting much more relevant and informative news. I think I watched all that news for maybe a week before I'd weaned myself off completely. And today I just can't watch CNN for 5 minutes. If any one of these channels is all someone is watching to get their information, they're deeply misinformed. It's easy to understand, in retrospect, how all those post-Katrina myths have persisted three years later.
Here's some essential reading, shamelessly stolen from Library Chronicles pre-RTIII Homework assignment:
Closed
Published by scotth August 25th, 2008 in Katrina
So I was feeling all invigorated from attending my first Rising Tide on Saturday. Unfortunately, I ended up working all night and felt like a zombie on Sunday. There was simply no way I could string two coherent words together, much less complete whole sentences.
It really was fantastic to meet everyone that I've read, enjoyed, and sometimes interacted with these past three years: Celcus, Jeff (Library Chronicles), Maitri, Ali (Fiyo on da Bayou — a new blog for me), Dangerblond, Sophmom, Liprap, Eli, Karen, Varg,Schroeder, Adrastos, Tim, Loki. I'm sure there's more. I tried to take notes….
I've got to update my blogroll now…
So, in true New Orleans fashion, the official program got started about 15 to 20 minutes late. But once underway we had John Barry deliver the keynote. I've read Rising Tide and his several post Katrina editorials but it's different hearing the man in person.
He really drives home the point that our problem here is a solvable, manmade and national problem. For example, when we talk about the loss of marsh-building sediment in the river, it's not just the flood protection levees that have caused that. According to Barry, half the sediment loss in the river occurs in the Dakotas due to dams built to provide power to that region.
His essay about What You Need to Know About Katrina, is required reading.
My favorite quote of his from the day: "Risk communication is simple. You tell the truth."
This was followed by the Education panel that included Leigh Dingerson, Cliff, G-Bitch, Christian Roselund, and teacher Jeffrey Berman. This is a topic that I just don't know that much about so the discussion was very interesting to me. It was interesting because despite all the trumpeting in various publications about how great this "experiment" is in New Orleans, the changes in the educational system are incredibly confusing.
For me, Cliff really cut through with his parent's perspective and historical view of the educational system in New Orleans.
We don't want to have anything with the RSD schools. I went there and was an honors student and when I got to UNO, I hadn't seen half the stuff up there … I don't want to go to the same schools, I don't want the same education … A large part of the population doesn't care.
Cliff also talked about the isolation of people in his community that "don't read the paper, don't watch WWL, don't read blogs" and the suspicion that engenders. It's that kind of history that leads people to label idealistic young teachers like Jeffrey as "carpet baggers" and has him seeing only 3 or 4 parents on a parent-teacher conference.
I don't know what the answers are here but I'm a lot more engaged and interested in what's going on with the educational system as a result of being at RT. And I'm reminded that when you read these puff pieces in the paper that could be school board press releases, your skepticism is warranted.
Jeffrey moderated an interesting Journalism panel that included Lee Zurik, E, Kevin Allman, and David Winkler-Schmit . This was a lively panel and Jeffrey did a great job preparing.
The crowd really roared when Lee acknowledged Karen and Sarah for initially breaking the NOAH scandal. And that's very important to bloggers because we're not getting paid for this. So it's all about reputation. At least in New Orleans, bloggers aren't just reacting to the news, they're on the leading edge and working with the "professional" media in critical and constructive ways.
Much discussion centered around the idea that the "cream rises to the top" in blogging. More and more people link to a story and it gains traction. We were all struck that not only do Lee ("My eyebrows are real") and his counterparts read blogs, but Cerasoli and others do too. Lee scoffed more than once at the notion of "amateur investigators"; it's clear that he gets that this is the essence of citizen involvement. I was struck at the parallels between blogger journalism and Open Source software — but I'm a geek like that.
Lunch was graciously provided by J'anitas. Breakfast was courtesy of levees.org who also premiered a brief film debunking some popular notions about New Orleans and Katrina that they hope will gain some national attention. It's nothing we don't all know down here. I'll have to send it to a few friends and family out of town and get their take on it.
The final panel of the day was the Politcs panel moderated by Adrastos. Lots of discussion about the DA's race and approach to crime in the city. Ethan Brown spoke emphatically about how insanely high our murder rate is in this city compared to any other place in the country and he's right. It's completely out of control. And while the DA alone can't fix it (we need a new mayor and police chief), prosecuting low-level drug offenders isn't doing us a damn bit of good.
At the end of the panel, I asked perhaps too snarkily, what was next for our current mayor when he leaves office in 2010. Dangerblond said she would be glad that "the nightmare was finally over." But Greg actually said what I was thinking. Nagin is not going away unless he somehow gets indicted and put in jail and even that won't necessarily knock him out. "He will run for something else" . Unfortunately, I agree.
All in all it was a fantastic event and I'm looking forward to RTIV and perhaps spending a little more "face time" with some new friends.
Closed
Published by scotth August 21st, 2008 in Katrina
So I put off reading E of We Could Be Famous's analysis of the New Orleans School's Master plan for the next 30 years. The local T-P proudly trumpeted the plan which calls for demolishing some 52 schools and construction on 28 over a 30 year period.
If one only reads the newspaper it all sounds good, but as always, the devil lies in the details.
And E takes on the details. Admittedly, I have been a little less keen on following all the ins and outs of the school system upheaval in New Orleans. I know it's important but I don't have children and there are so many other issues clamoring for my mental attention.
What E does is recognize that schools, like roads and other public facilities are resources that can only be provided by governments and they are critical to decisions about where and how we continue to rebuild. Doris Voitier, superindent of devastated neighbor St. Bernard parish understood this. And thus it is the holes in the RSD and school board plan that speak the loudest.
For flooded neighborhoods to recover, they need these types of basic social services. In order for businesses to open in damaged neighborhoods, they need to see that people will return. For people to return, they need to see that the government will extend the courtesy of basic social services.

…

Already-damaged neighborhoods starved of basic municipal services will only continue to flounder. Those still displaced from these communities will see little reason to rebuild and those that have already spend thousands to do just that will be stuck in the margins.
So it would appear that the this master plan either deliberately or through incorrect assumptions will backdoor the "shrink the footprint" notions of rebuilding put forth and rejected in previous planning efforts.
What is so bothersome about this is how disengenuous it all is. There continues to be no honest, open, transparent leadership about how we rebuild this city with limited resources. Except, of course, the leadership provided by the citizens themselves who understand the meaning of "ourselves, alone" in subtle shades that few outsiders can appreciate. So thanks E for putting it all out there.
Now go read it!
---
---
---
About
You are currently browsing the Nix Bits weblog archives.
Latest
Wedding
I got
married
on 9/4/2004. So click for details, already.
Old stuff
Links and writings from older versions of this site
Old stuff
Oldest stuff