---
---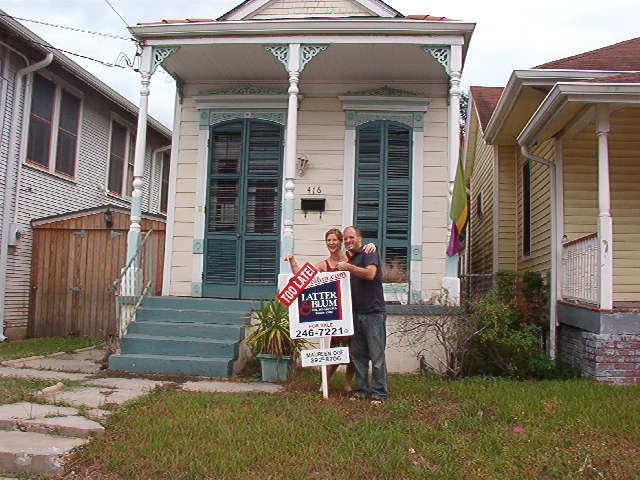 We did it. After being under contract since July, we finally closed on the mold house Monday. This is the first real step forward we've been able to take since the levees broke.
As I mentioned before, prior to Katrina, we had plans to sell the little Mid City shotgun I had originally purchased in 2000. It was our "starter home" and while we loved it and the neighborhood, we really needed more space. So we had intended to sell this year and buy again in Mid City.
Then Katrina came through and the levees failed putting 1-2 feet of water in our little starter home. We went through insurance battles but ultimately prevailed. We started with a contractor to put it back together after we had gutted it ourselves. We were figuring on selling it once the contract was done or living in it again if the market looked poor. We wanted to see the house done right.
After signing in January, our contractor did almost nothing for six months. He removed the floor. So now the house was floorless, wallless, powerless, and without plumbing. We kept getting promise after promise that an electrician would show up to rough that in and then the real work could begin. It's a small house so we knew it shouldn't take very long. We knew we were in trouble and wasting time and money and figured it was time for plan B. We cut the contract and put the house on the market. Within one day of listing with our agent, we had two written offers. We accepted one in July.
And then we began to really learn about the insurance problems. Our buyers are a local real estate agent and her contractor husband. They can do the work themselves that we can't do. Better still, I feel like they will do the job right so it will be good for the neighbors who have already returned in large part. But just to get builder's risk, they had to go through LA Citizen's and wait on the agonizingly slow process in Baton Rouge. They were essentially pioneers with getting builder's risk through the insurer of last resort. But finally, over two months later, we were able to close the deal.
And now, finally, the process of moving forward and getting out of limbo can begin. I never thought I'd be so happy to not be a homeowner.
---
Wedding
I got
married
on 9/4/2004. So click for details, already.
Old stuff
Links and writings from older versions of this site
Old stuff
Oldest stuff