---
---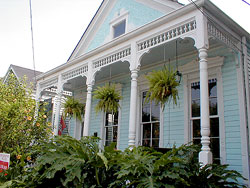 It's probably been apparent that Jennifer and I planned to stay in New Orleans despite selling our home recently. In fact, we put in an offer on a new house in the Lower Garden District the same day we finally closed on our former home in Mid City. I hadn't posted about it because I didn't want to jinx the deal while we were winding our way through inspections and the other tasks that go along with closing the deal on a house purchase. But it's done now as of last night and we're starting to move in.
This is the biggest step we've taken since the levees broke 14 months ago. As others have pointed out, the decision to stay and stake our claim was not an easy one. We had to ask ourselves a lot of serious questions. In terms of career, I've been moving forward even accepting a new position at the beginning of the year. That's actually why I haven't been able to post very much because I am incredibly busy. My wife's career would determine whether or not we could stay since I felt like I could easily move. She is a psychologist in private practice and lost two offices — one in Mid-City and one in New Orleans East. So she lost her entire client base and had to start over from scratch. This may sound like an easy decision in a city that has apparently lost 80% of its mental health professionals but it was far from certain. The mental health "system" hardly worked before the storm. How would patients and insurers even find her?
The first good break for her was the ability to get an office in Metairie with a month-to-month lease. Predictably, things were slow at first, but eventually calls did start coming in. By the storm's anniversary, she was quite busy and we had our Mid-City house under contract to sell. We'd been house shopping since before Katrina, though obviously we altered our target neighborhoods a bit. From a pure financial perspective, we realized we could indeed make a go of it. And she feels like she's doing some real good now performing a service that is desperately needed and will probably be busy with Katrina-aftermath issues for years to come.
So with that settled we knew that what we really wanted to do we actually could do. And then we went and looked at this house and made an offer. To our surprise, it was accepted. And, yes, we did get homeowner's insurance from a private insurer in Orleans Parish. This was not easy and I reallly can't go into the particulars on a public blog post, but hopefully it's a good sign that the market will begin to open up. In fact, I secured the homeowner's insurance before we had selected a mortgage company. We knew if we couldn't get insurance that the deal would fall through anyway as so many real estate sales in New Orleans have in the past several months. Go ahead, ask a local real estate agent or watch how many houses go under contract and then appear back on the market. Or just look at how many houses are just sitting on the market.
I think I've driven by our house every day on the way to work since we put it under contract. At Christmas, we're finally going to visit her parents in Kentucky and get Callie back after 15 months. I hope she can re-adjust to city life and her little buddy after life on the farm. And we'll get some furniture since we really don't have any anymore. Here are some pictures we took of the interior while we were checking the place out. Most of the decor isn't ours though we did manage to negotiate in some of the furniture.
---
Wedding
I got
married
on 9/4/2004. So click for details, already.
Old stuff
Links and writings from older versions of this site
Old stuff
Oldest stuff